Say hello to the mighty Sunflower
Joey from Friends sums up how we feel about sunflowers perfectly with his famous line; "That's like Summer in a bowl!". Here at The Flower Shop Southampton we love working with really seasonal blooms such as sunflowers, who are at their very finest in the month of August. Big sunshine yellow petals and big round heads make sunflowers just look…happy! They won't be around for long due to their short summer season, so get your hands on some beautiful sunflowers from your local florist now!
We share our favourite summer bouquets from our exclusive online Maritime Collection that feature the mighty sunflower as one of our stars!
The Soleil
Designed by our talented Southampton florists, The Soleil hand-tied bouquet includes some of our summer favourites; yellow sunflowers, blue delphinium and phlox, along with carnations, iris for pop of vibrant rainbow colours and summer foliage to add texture.
Bold and modern, The Soleil Bouquet is the ideal floral gift for happy life celebrations – send for birthdays, new baby or congratulations. Every bouquet is handcrafted in our Southampton shops, wrapped and completed with luxury ribbon. Perfection!
Fun Fact: Sunflowers love the sun light, with young sunflower heads moving east to west to follow the sun during the day.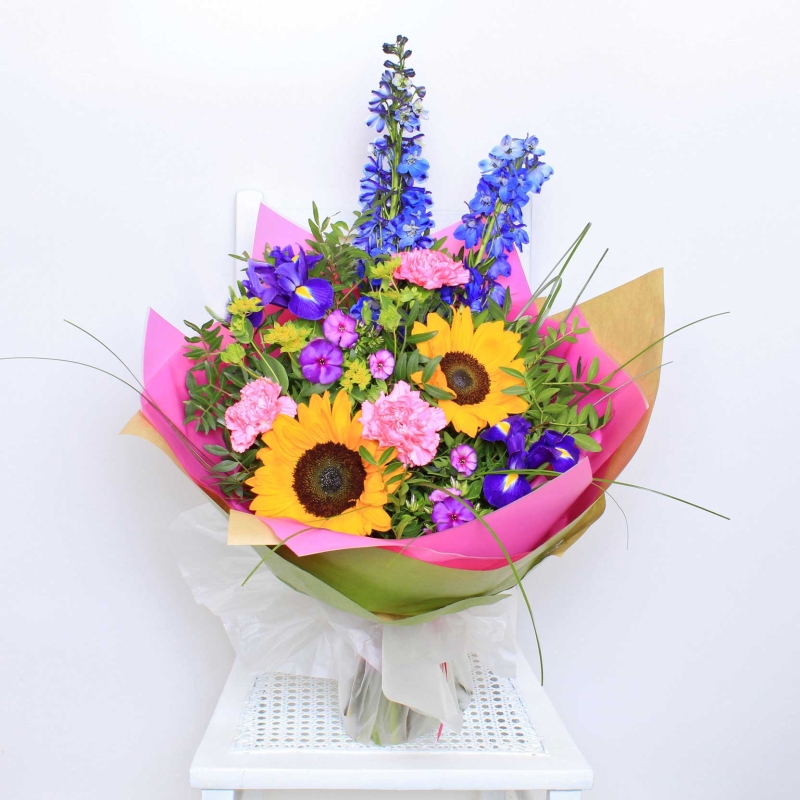 The Dockgate
A stylish bouquet with a touch of contemporary English garden, The Dockgate bouquet is a dreamy gift to send this Summer. Using a mixture of flowers including Sunflower, purple lisianthus, antirrhinums, alstromeria and yellow roses, with lush foliage for luxurious volume.
The Dockgate bouquet is beautifully gift wrapped and presented in a gift box, making it a great gift to send to someone special. The Flower Shop Southampton deliver flowers same day too, so you can order flowers online as a surprise last minute!
Sunflower care tip: Sunflowers are particularly thirsty blooms, so keep the waster in the vase topped up daily.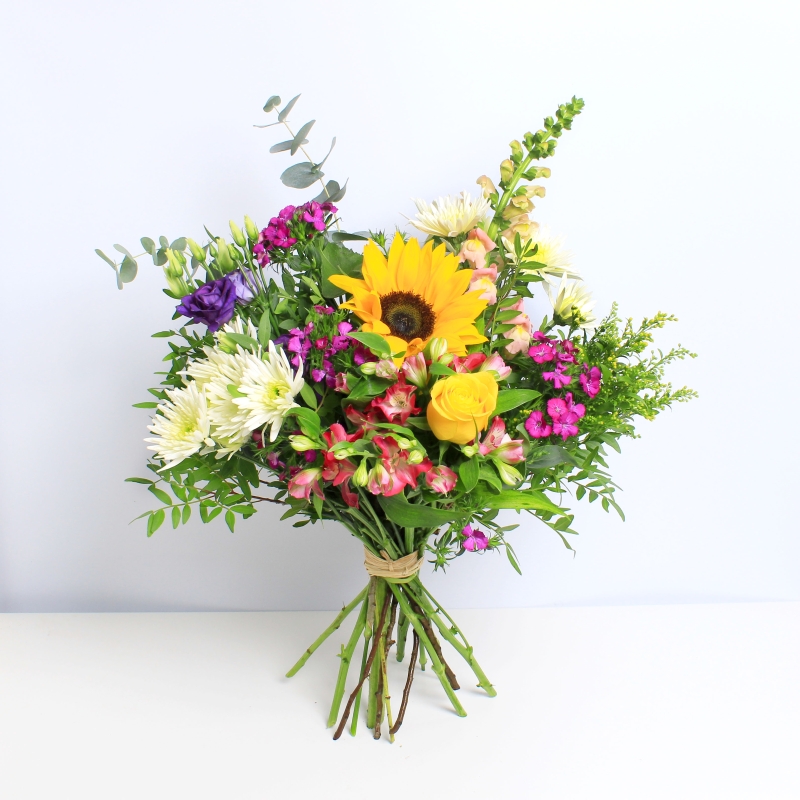 The Solent
A bouquet with a tropical twist for Summer, we love The Solent! An elegant hand-tied crated by our expert team using blooms in sunny shades of golden tones. Warm summery oranges and yellows are highlighted with pops of cerise pink – just like looking at a tropical beach sunset.
Including Sunflowers, orange lilies and pink spray carnations, combined with lush foliage, The Solent will make the lucky recipient smile like crazy when we deliver direct to their door!
Did you know? The tallest sunflower on record was over 30 feet tall and made it into the Guinness World Book of Records!